People ask us all the time if BDN is a branding or a marketing agency.
The truth is, we are neither (we really exist to build awareness and enable sales for aerospace businesses) and we are both (branding and marketing are essential elements to building awareness and driving sales).
No wonder it's confusing.
The word branding, like marketing, can mean many things to many people. So this week we bring you a glossary designed to promote a shared understanding of branding terminology, and a few A&D industry examples to give it wings.
---
BDN Branding Glossary
Brand
A brand is a living business asset that enhances the connection between a business and customer. Some people define it as what people say when you are not in the room, and that's a good way to think about it. Boeing is the most valuable aerospace brand in the world. Consider what the Boeing brand means to you.
Brand Ambassador
Also called brand champions, these are people within an organization who represent and passionately promote the brand. Richard Branson is a visible and vocal ambassador for Virgin Airlines. Lynn Tilton is the face of MD Helicopters. Is your CEO a valuable ambassador for your brand?
Brand Architecture
This is how a business defines the relationship among its brands to help people understand what the company offers. Many aerospace businesses fall into the trap of establishing and communicating their brand architecture around their organizational structure (versus customer offerings). Don't be one of them!
Brand Personality
This is the attribution of human characteristics to a brand as a way to achieve differentiation. Your personality should be reflected in how your brand looks, speaks and acts. In our experience, too many A&D brands look (everything is blue) and sound (quality, innovation, reliable solutions, etc.) alike. But being different is marketing gold! Big Ass Fans is an A&D industry brand with a distinct and memorable personality.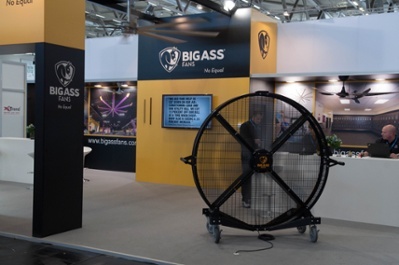 Big Ass Fans display. By Marco Verch (Bigass Fans (Ventilatoren)) via Wikimedia Commons
Brand Positioning
Also known as brand strategy, this is the distinctive position that a company adopts in the marketplace to ensure differentiation from its competition. A Sikorsky Aircraft Ad campaign — "There Are Those Who Fly, and Those Who Fly Sikorsky — positioned the company as the world's elite provider of helicopters.

Brand Standards
These are clear rules and guidelines that ensure your brand is presented correctly and consistently in all usages. Does your company have standards? Are they followed and enforced?
Brand Voice
A defined voice is a distinct style of communication that is reflected in an organization's writing style. What's your brand voice? Is it simple and straightforward, or complicated and full of buzzwords?
The Cessna logo is iconic in general aviation. (via Wikimedia Commons)
Logo
A logo is the graphic treatment and colors that make your brand immediately identifiable and uniquely ownable. Engineering-minded folks may think the logo must be a literal representation of what you do, and this is why they should not design logos.
---
Next week we'll take a more in-depth look at Brand Architecture and Brand Positioning. Join us!
Also: If you liked this week's blog, you may also enjoy:
Credits: Some of these definitions are adapted from a more complete glossary published on brandchannel.com and were originally published in Interbrand.