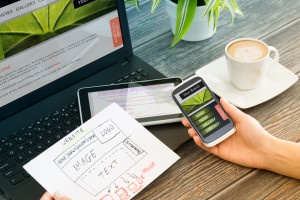 We speak frequently with aviation, aerospace and defense marketers or business owners who call us to inquire about our web development capabilities. We love talking with them and learning about their challenges. Lately, we notice more people coming to us with concerns about the visual aspect of their sites, with many expressing a desire to update the site's aesthetic appeal.
The Ugly Truth
We're all for great-looking websites — they help us keep the lights on and they are essential to a healthy brand. But, frankly, a cosmetic update alone is like putting lipstick on a pig. It doesn't change the fact that the website is fundamentally bad and not functioning as it should. It just makes the still-bad website look better.
It's good to pay attention to your website. It's an extension of your sales team and is arguably the most important part of any B2B marketing program, so it has to be right.
Back to Basics
When considering a website refresh, be sure you are focusing your time and energy on the right things. Here's a list of 9 basics that are more important than visual appeal.
Want more? We guarantee you'll find this Content Marketing Institute article, "Why 55% of Potential B2B Buyers Might Not Trust Your Website Content," to be especially helpful.