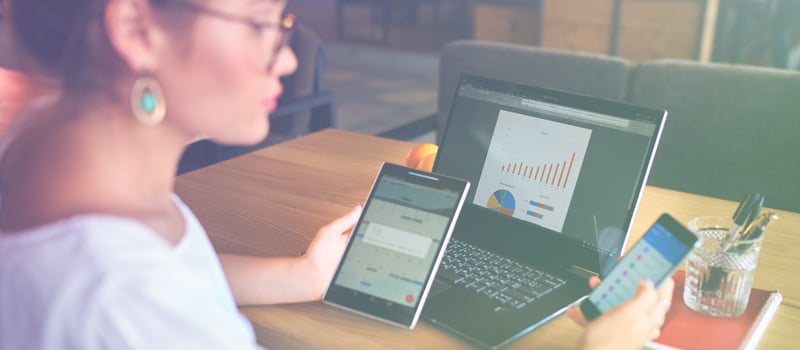 On average, I spend 60 - 70% of my time communicating with our aerospace and defense marketing clients. Whether it be trade shows, consultation, sales pitches, or client meetings, our industry heavily relies on in-person meetings, and with the current pandemic, you might be wondering how you can stay top of mind without your go-to methods.
Our recommendation is to enhance your digital marketing. Here are three ways you can get started:
Create meaningful content
Focus on your website and digital presence
Maintain your touchpoints
What is Meaningful Content?
In January 2020, we partnered with international keynote speaker and web marketing guru, Marcus Sheridan, to hear and implement his insight on content that is guaranteed to drive traffic and sales.
These are the five topics of content your readers want to read about and as a result, are the top five topics that generate the most traffic, leads, and sales for those willing to write about them.
1. Cost
We can already hear your concerns - they are probably the same ones we spewed at Marcus at first too. But Marcus (and our increase in clients and sales since implementing) can be pretty convincing...
Objection: But our product/services are custom designed for individual requirements and viewed as "solutions".

Solution: Write about the factors that influence costs and at least give a range of possible rates. It's that simple.


Objection: But then our competitors would know what we're charging.

Solution: Marcus' rebuttal, "Do they not already? Are they totally clueless? Go look at their website. Are they discussing costs? If so, you better catch up. If not, it's your chance to get ahead of them."


Objection: But we might scare prospects away before we can explain the costs to them.

Solution: Not answering your consumer's cost questions will drive more people away as they have to go elsewhere for answers. Transparency and communication fosters trust. And people want to do business with businesses they can trust.


2. Problems
There are two types of problems you need to be talking about: their problems and your problems.
Problem #1: Your prospect's problems. Blogs laying out your audiences' problems should highlight your product or service as the solution - without a direct hard sale approach. Take the higher road. Be an authority in your particular niche. Guide them to the answer, without blatantly selling your product or service.

Problem #2: Your problems. Let's be honest, your organization isn't for everyone. If you are an aerospace and defense related manufacturer, your products/services are most likely B2B, and not B2C. When writing, acknowledge this difference. Be honest, it's a good way to weed out, what Marcus would call "non-fits" for your organization. In fact, to better help these non-fit prospects weed themselves out, we recommend you start with a blog titled "5 Signs [YOUR COMPANY NAME] is not for you.
Marcus talks more in-depth about how to write effective problem blogs (with 5 examples) here.
3. Comparisons
Wouldn't it be great if you could get a comparison of our marketing strategy programs, so you could pick the best one for your needs? Yes, yes it would. And we are currently working on publishing that comparison for you because we know that marketing strategy is not one size fits all.
Similarly, with your product/service, you are not one-size fits all (see problem #2 above) and to create content about the pros and cons of each of your solutions (and your competitor's solutions) to their problems, will give them a better understanding of how you can best fit their needs. Honesty is of utmost importance, because if you aren't completely transparent, your prospects will find out.
4. "Best of" Lists
There are a couple of reasons why these sort of content pieces are on this list. The first being a simple hack. The last time you were researching a big purchase did you use the terms "best" or "top" in your google search of that product or service? It's one of the most common ways people search and if you have the blog answering that exact question, you are one step ahead of the game. Marcus' key "best of" article topics you should write about:

Best Competitors. You may worry that writing an article listing all of your top competitors will lead potential customers away from you, but if you write an article introducing them to all the competitors (that they will inevitably find anyways), they're at least reading the information on your site, and you have the first chance to convert them into a lead.


Best in Class. For every line of product you sell, you can write a 'best of' list.
Best marketing agency
Best aerospace and defense marketing agency
Best aerospace and defense marketing agency in North America
Best all-inclusive aerospace and defense marketing agency
And don't get too caught up on using the word "best". There's lots of other superlative adjectives people would use to search:
Aerospace and defense marketing agency with best results
Most Expensive aerospace and defense marketing agency
Highest Rated aerospace and defense marketing agency
Best Practices. Marcus asks, "Do you have teachable moments related to the products or services you sell? How can people get the results they desire from using your product?" Then write that.
5.
Reviews
I don't purchase anything before looking at reviews. From large company purchases to small Amazon add-ons, I will scour the internet for reviews of the product or service. And I am not alone.
Bright Local's Consumer Review Survey shows that 91% of people regularly read online reviews and that 84% trust online reviews as much as a personal recommendation. Let that sink in. Marcus says, "People love to crowdsource opinions. If you can write honest reviews of the products you sell (and even don't sell), you'll connect with more prospects looking for help making purchases."
---
By creating content on these 5 topics, you will be answering your prospects questions before they even ask! They won't have to go looking to your competitor's for answers, and you will create an engaged prospect. You're guaranteed to drive more traffic, leads, and sales for your business. Start answering those questions in your content and let us know how it goes!
Stay tuned for part two as we explore your website and digital presence, and part three: analyzing your touchpoints.