We've said it before. Branding is complicated.
It's especially so for companies that have experienced considerable growth and change – perhaps through mergers and acquisitions or the addition of new products and services — but lack branding discipline. We've seen it happen time and time again. A new product name here…an organizational logo there…and pretty soon you've lost control. What started with good intentions ends up as a branding free for all, and a really big mess.
The Branding Strategy Insider has seen it before, too, and knows how to spot a problem:
"Frequently, there are no naming standards. Each new product or service is named as it is created, with no view to the overall picture. And sometimes, employees are creating variations or new versions of existing brands for entities and programs such as internal training programs, company picnics or employee reward programs. If some or all of this applies to your organization, you likely need help clarifying and simplifying your branding structure."
If this sounds like you, you need to take a look at your branding architecture.
Branding architecture is defined as the way a business defines the relationship among its brands and product lines to help people understand what the company offers. It's a family tree, but with rules covering the number and hierarchy of brands, rules for creating new brands, and the overall branding approach.
And while there are no absolute rules that apply in all brand architecture situations, the Branding Insider offers 12 very solid rules of thumb:
The simpler the system the better.
Ideally, there are no more than two levels of hierarchy.
The system should be flexible enough to address all current and anticipated branding situations.
The dominant brand should be the one you most intend to build over time.
Sub-brands should be created sparingly, however they can be built to make the main or parent brand more relevant to new customer segments.
When an existing brand can be used, new brands should not be created.
Careful thought should be put into at what level taglines are used.
Many organizations have evolved to brand/sub-brand systems with some provision for flexibility and variation.
More and more organizations are trying to build and leverage their corporate, parent or organization brands as a way to save money when marketing products and services.
Only brands that (a) are highly differentiated, (b) will be maintained for at least several years and (c) will be supported by significant marketing resources over time should have coined names.
Brand architecture should be designed with external audiences in mind. It should not be designed to reflect legal entities or internal organization structure.
Sub-brands should be developed to meet the needs of different market segments. This requires a deep understanding of those segments.
---
Aerospace & Defense Industry Tip
There are several common types of brand architectures, and many fall on a spectrum between the branding house and house of brands.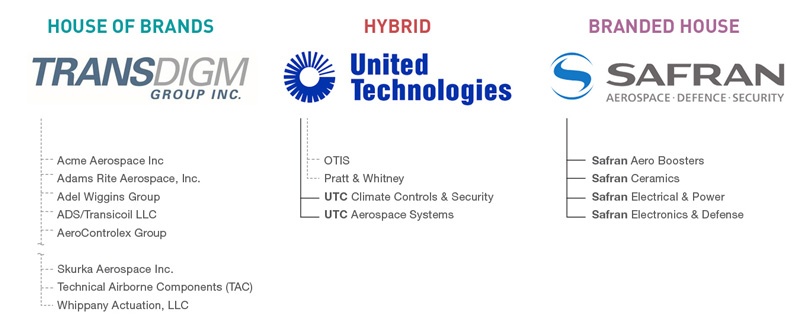 House of Brands: The company brand acts as a holding company and each product or service is individually branded for its target market
Hybrid: Sub-brands exist and are linked to the corporate brand through language or visually
Branded House: The company brand is used on all products and services
Many aerospace and defense businesses fall into the trap of establishing brand architecture around their organizational structure – don't be one of them! Your brand architecture should be organized to present your brand in the most customer-centric and customer-friendly way possible.