In Determining A Marketing Budget Part 1: Budget Trends, we discussed industry standards as a benchmark for your aerospace marketing budget. In this post, we'll take it a step further and discuss steps for building a budget.


Let's Break It Down
Step 1: Do the Research
Track your past spending, review past budgets, financial statements for your department, receipts, and compare those to past marketing goals. How much did the marketing department spend last month? Last quarter? Determine what worked, what didn't, and ask the question, "could a better budget help?"
Recent findings from Forrester Research and eMarketer show the estimated allocation of marketing funds offline vs. online and across digital channels for 2020:
The average firm is expected to allocate 45% of their total marketing budget to online marketing initiatives

Search engine marketing will capture the largest share of online expenditure with online display (banner ads, online video, etc.) taking the second largest share

Online video will represent the highest growth category, with the anticipated investment more than doubling 2016 numbers by 2021

Social media spending overall averaged 11-12% of total marketing budget in the August 2019 CMO Survey and it expected to grow to 17%

Mobile marketing has grown to a point that it's no longer tracked separately in the forecast and it's presumed to be considered across all channels

Investment in paid search, display advertising, social media advertising, online video advertising, and email marketing is predicted to account for 46% of all advertising by 2021.
Don't forget to take a look at your organization's operational costs. Marketing spending generally hovers between 6.5% to 10% of the organization's revenue. For organizations in the manufacturing industry, the marketing budget falls to an average of 2.4%. The travel and transportation industries hover around 8%. Where does your department fall in your organization's budget?
Step 2: Compare with Your Marketing Goals
Identify and clearly define specific marketing and/or sales goals that align with your company's overall strategic goals. Highlight the desired results for each, set expectations, and pinpoint potential challenges. This step creates accountability for successful results and helps drive confidence in the budget.
Step 3: Create Your Marketing Budget
With clear strategies and tactics in place, you can now create your line-item budget. It will help estimate the costs of tasks, resources necessary to execute the marketing communications plan and assess whether your current budget has the capacity to accomplish your objectives.
Before we start working with a client, Aerospace Marketing Lab organizes our potential work together into categories of support to create an itemized statement of work with the price of investment per area of support. See an example here: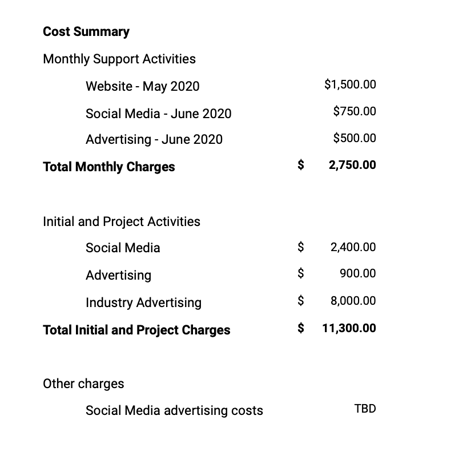 Side Note: Develop metrics and a control process to justify the requested budget and how you'll monitor the performance of the plan. Marketing communications plans call for specific timeframes and performance standards — these are the metrics of your plan.
Step 4: Record Everything
Continually measure and monitor performance, staying nimble to adjust as needed to strengthen metrics. Keep detailed records and produce clear, succinct, regular reports on marketing plan performance.
We Built Our Budget. What's Next?
Stay tuned! Subscribe here to get Determining A Marketing Budget Part 3: The ROI delivered straight to your inbox.
This blog reflects research that was conducted prior to COVID-19. Actually projections may vary as our industry adjusts to the changes in the market.