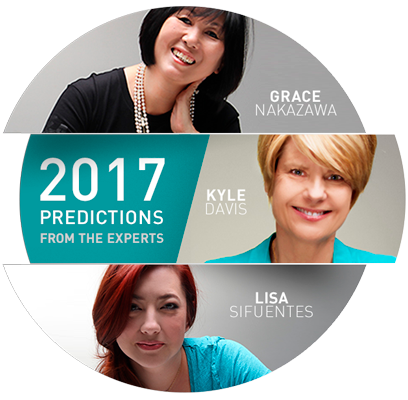 We recently asked BDN's three most experienced aerospace marketers (Kyle Davis, Grace Nakazawa and Lisa Sifuentes) to talk about what's ahead for our readers in 2017. Here are their predictions.
---
What do you think aerospace marketers will be doing more of in 2017, and why?
KD: Research. We see more aerospace marketing professionals realizing the value of research, and investing in intelligence to drive all aspects of their marketing. They are not flying blind anymore, but are taking time to find out what is driving the market and then using that information to shape their marketing programs. For example, perhaps your business is devoting a lot of resources to a market that is oversaturated or on the decline. Strategically you would see the value in shifting those efforts to pursue a more lucrative, growing opportunity. Understanding the wants, needs and behavior of customers is just as essential. So if you discover that your customers aren't looking at print magazines, for example, shift your advertising to digital channels or pursue another more relevant tactic.
GN: Content development. Aerospace companies are realizing the importance of sharing their knowledge and demonstrating expertise through content development as a way of differentiating themselves from competitors and guiding buyer preferences. The key will be developing valuable content and not just marketing or self-promotion information.
LS: Video. In 2017, video will account for 69 percent of all consumer internet traffic. Why is it so popular? Because video connects immediately to the viewer, conveying emotion and a message that often is far more memorable than words in a feed. YouTube sees over one billion people using its video sharing site on a regular basis, and mobile video consumption is rising 100 percent every year. Hyperline Media reports that including video on a landing page can increase conversion by 80 percent. Video is one of the most powerful ways to communicate with audiences — and with the often highly technical products and services inherent in aerospace, video is a great way to tell those stories.
What do you think aerospace marketers will be doing less of in 2017, and why?
KD: Anything that can't be measured or linked directly to a result that supports marketing and sales goals.
GN: Everything print. The aerospace industry is still very reliant on print. But we are starting to see a trend that is moving away from print advertising and collateral, toward using more digital tools and assets that can be more responsive and personalized. In many ways digital can be less costly and yet provide better marketing metrics.
LS: Aerospace marketers will be doing less of the same old approach to marketing regarding trade shows and events. We will see an increase in planning and pre-event campaigns to drive booth traffic and more unique approaches to customer experiences in exhibit spaces. By not planning well, marketers fail to realize value from large investments in trade shows. And since these events are such an important sales and marketing tactic for the aerospace industry, a larger effort to make them as successful as possible will be needed as the demand for demonstrated ROI increases.
From a strategic standpoint, how will aerospace marketers be thinking and acting differently in 2017?
KD: For companies that are serious about professional marketing, we're going to see more focus and discipline. Once upon a time, marketing was a frenetic free-for-all. The boss decided it was time to start using social media, so someone had to start tweeting every day. Then he/she noticed that the competition had a bigger or better trade show exhibit, and suddenly that became a top priority. Special deal to buy an ad? Write the check and make the placement! No one asked why, or what we expected to accomplish, or even how any given activity connected to an overriding goal or strategy. Today, more and more organizations are starting to reassess how and where they are investing their marketing budgets. These savvy businesses are redirecting resources to first develop a strategic marketing plan, and only funding tactics that will achieve those agreed-on goals. Learn more here.
GN: Aerospace marketers will start developing more integrated campaigns rather than one-off tactics. They will include more non-traditional marketing methods into their campaigns in multiple stages that will help create a unified experience for the customer to interact on various levels. An integrated campaign ensures that the messaging is consistent across all channels and should be designed to reinforce each other.
LS: Elevating their brand. Both through aesthetic and defining the story they want to tell their audiences. Aerospace marketers are seeing the need for strong branding and messaging in an increasingly competitive and crowded marketplace. That challenge, combined with numerous marketing channels available, means brands need to be different and need to stand out. The good news is that marketers are embracing the fact that branding is so much more than just a logo and looking for ways to expand and build upon the customer experience that allows for their brand to truly resonate with their audience. BDN recently completed an entire series on branding. Click here to read more.
From a tactical standpoint, how will aerospace marketers be thinking and acting differently in 2017?
KD: Aerospace marketing professionals are recognizing the value of content marketing (it's ideal for our industry) and they are looking for ways to make it work for their organizations. It's going to be a hot topic in the year ahead. If you want to learn more, the Content Marketing Institute is a great resource.
GN: Social media 2.0. As our industry becomes more comfortable with social media we need to take it to the next level. Rather than blasting marketing messages we must use it strategically to engage with the audience and develop communities. We need to learn to use it as a marketing tool, with data and metrics, and move away from just a social tactic.
LS: A stronger push to digital marketing — everything from native advertising to programmatic ad buys. These are smarter ways to spend marketing budgets that are measurable and targeted. Advertising is an important tactic for many aerospace companies and offers a lot of value depending on specific goals. Aerospace marketers may feel a bit limited as the traditional channels of print tend to dominate the industry still, but it's important to remember that each channel serves different purposes. Click here to learn more about programmatic ad buying.
What will be the biggest change in terms of marketing technology?
KD: Well, there's a big gap between available technology and what our industry is actually using. We're continually surprised at how many high-level aerospace businesses still rely on Excel for lead tracking, so we may have to take baby steps here. Let's start with a CRM system for every organization.
GN: Marketing technology is growing and changing so rapidly that the challenge will be information overload and paralysis. All these tools that have been created to make our marketing more effective and efficient may have brought you to a stand still in the evaluation process. Since most will require an investment in time and money you might want some assistance in your decision-making. This white paper by HubSpot may help you navigate through the process of selecting the right tools.
LS: The biggest change for aerospace marketers in terms of marketing technology is the need for advanced analytics. I think we are seeing a definite need for this now, and as marketers are under more pressure to demonstrate ROI, so introducing and leveraging technology that can measure more than just email opens and website traffic will be critical.
What's your single best piece of advice to an aerospace marketing professional who wants to be more successful in 2017?
KD: Stop thinking like your business. Start thinking like your customers.
GN: Stop doing what you've "always done." Start to question the status quo. Why are we going to the same trade shows that we've attended for the past 20 years? Do they still add value? Why are we still advertising in the same magazines? What's our ROI? Stop and evaluate all of your marketing tactics and determine if it's time for a change. Remember Einstein's definition of insanity: doing the same thing over and over again and expecting different results.
LS: Connect to your sales team often. Aligning marketing with sales can benefit both the business and each side of the operation in many ways. Marketing can work with sales to target prospects, brainstorm new content to help sales with moving prospects along a buying journey and further assist with lead nurturing. Ideally marketing and sales work in tandem, aligning their roles and goals to ensure that ROI becomes the responsibility of the whole organization, not individual teams. And by working together, sales cycles can be shortened because marketing has developed the content sales needs and it is ready when sales needs it.
Any parting shots? Something else you'd like to say or share?
KD: Become more familiar with Account-Based Marketing (ABM). ABM has been described as "fishing with a spear instead of a net," and can work well for industries with long sales cycles and multiple decision makers — like aerospace.
GN: Start considering the customer experience. Aerospace is still very much a company-centric industry. We see it primarily by the way a company's website is organized. As customers do more of the purchasing research on their own, they will begin to dictate the buying process. Make it easy for them to find you, to learn about you and your product/services, and to buy from you. If you make it challenging, they will move on to your competitor.
LS: Get out of your comfort zone. Try marketing tactics that you haven't tried before. Generate new ideas and attempt to be different. The aerospace industry is full of great innovations and inventions — let's apply that same concept to our marketing and make it just as great.
---
Want more B2B marketing predictions for 2017? Check out this blog from Circle Studio.