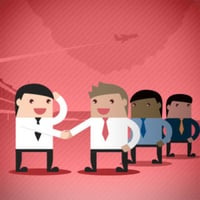 Budgets are tight. Expectations are high. And marketing always seems to be on the hot seat to do more. We feel the pressure from management, from finance and, especially, from sales.
Finger-pointing between sales and marketing is nothing new. Salespeople say they don't get enough support, tools or help from marketing. And marketing folks think sales lacks the discipline and follow-through to close.
It doesn't have to be this way.
Marketers who embrace lead generation can shift these dynamics once and for all, fundamentally changing the relationship between sales and marketing, giving marketing more control over more of the process and making sales accountable for follow-through. At the same time, they can elevate their profile in the organization and move away from being on the defensive. There are three keys to making it happen:
Shifting the marketing conversation from outputs to outcomes.

Working with sales to jointly adopt and use a Customer Relationship Management (CRM) system.

Implementing successful lead-generation campaigns.
Once marketing starts delivering measurable outcomes that link to sales, everything changes. And if you think lead generation won't work in aerospace and defense, think again. BDN recently completed a sales and marketing campaign with a focus on lead generation for an avionics business, and the results were nothing short of astounding.
You can learn more in an all-new Success Insider case study, available for download now.
---
If you like this blog you may also enjoy: