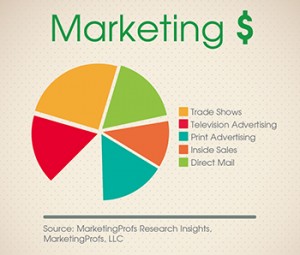 How much are other B-to-B companies spending on marketing?
40% report marketing budgets of under $1 million
21% report marketing budgets ranging from $1 million to $4.9 million
17% spend $5 million or more
Where are they spending their money?
Trade shows: 20% of budget
Television Advertising: 17%
Print Advertising: 15%
Inside Sales: 14%
Direct Mail: 14%
This information was gleaned from a survey of dedicated marketing executives in B-to-B businesses with revenues ranging from less than $100 million (nearly half of respondents) to $1 billion or higher. 35% of respondents described their businesses as Manufacturing, High-Tech, and Primary Production.
How much are you spending? How does your budget measure up?
Source: MarketingProfs Research Insights, MarketingProfs, LLC