Last week we looked at the aerospace market by segment. If you recall, we highlighted Engines, Avionics, and MRO/Aftermarket as key areas of growth, and these statistics from Deloitte bear that out. The group's 2016 "Global Aerospace and Defense Sector Financial Performance Study" identified five key drivers of revenue and earnings.

Worth noting: While OEMs have experienced steady growth, Tier One, Two and Three suppliers are in decline. Tier Three companies are suffering the most, with an 18 percent drop in core operating earnings over four years. If you believe in the mantra "follow the money," this is important to know.
Which A&D business are expected to grow in 2017?
Other areas for significant future growth include cybersecurity, UAVs and foreign military. But when it comes to the military (or any market, really) be careful of putting all or most of your eggs in one basket. It should go without saying, but Deloitte points out that Oshkosh Defense's revenues decreased 45.5 percent ($785 million) simply because of a decline in sales to the DoD and international customers.
The interesting thing about this report is that it ranks aerospace businesses based on 29 key performance metrics. This means savvy marketers can study and interpret the information to identify their best targets — both by market segment and individual companies — for success.
Boeing, for example, is No. 1 in revenue. So we know they are bringing in a lot of money, but what does that really mean to anyone who has something to sell them? Of course no one's turning down work from Boeing, but we might want to explore some other options, too.
Engility, on the other hand, is No. 1 in revenue growth, at 52.5 percent, and guess what they do? Well, cybersecurity, among other things. They are a rapidly growing business in a high-growth segment, so if your business has a product or service they might need, get over to their supplier portal ASAP. Earnings also are up 120 percent at threat detection solutions provider Smiths Detection, where they also reported core operating margin growth of 141 percent.
If aviation cybersecurity is a market of interest, be aware of the key players, including Cisco Systems, IBM, Raytheon, Northrop Grumman and BAE Systems.
Other high revenue-growth businesses to watch include Orbital ATK, Constellium, Babcock International, Korea Aerospace Industries, Safran, United Aircraft Corp., JAMCO Corp., and Zodiac Aerospace. We were especially intrigued by United Aircraft Corp., in part because we'd never heard of them , and also because they had the largest share price increase (152 percent) in the industry. Based in Russia, UAC is a consortium of 30 companies offering a range of civil, military and transport aircraft. Fascinating.
A few final notes.
We also looked at companies with the highest profits per employee as well as those with the highest core operating margins. Why? These companies could be extraordinarily focused on realizing every efficiency and savings possible.
If that is the case, do they represent the best possible targets? Is this the type of new business you want to cultivate? That's for each individual marketer and company to decide, but it's good to know that 11 businesses appeared on both lists (profits per employee and operating margins).
These 11 businesses are Transdigm Group Inc., GE Aviation, Crane Aerospace & Electronics, Honeywell Aerospace, Rockwell Collins, Solvay Group, Precision Castparts Corp., HEICO Corp., Kaman Aerospace, Hexcel Corp., and KLX Inc. Both Transdigm and HEICO are known for acquiring smaller aerospace companies — publicly traded Transdigm is a consistently high performer that lists 34 separate businesses on its website.
---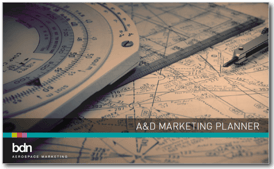 All of this information was invaluable to us in compiling our own 2107 Marketing Plan, and we hope it's useful to you, too. If you need help with your plan, this easy-to-use template may be just the thing.