From Over-Arching Mission to Tactical Taglines—Why Does it Matter?
Every company needs a vision, mission and value proposition to provide strategic direction for growth, as well as creating the foundation for a strong and unique brand identity. Can you exist without one? Of course, and many companies do, but it makes it difficult to distinguish or explain who or what you stand for to your employees and clients, and also to differentiate yourself from your competitors.
While researching this topic, we realized that the aerospace and defense industry struggles to clearly state their organization's ethos - what they do and why - and to clearly define what they are trying to achieve. Many companies, big and small, had their terminology confused, or poorly constructed their strategic intent.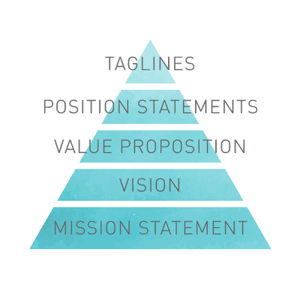 Why does it matter? By implementing the full marketing continuum laid out here, an organization with purpose will develop the framework for a consistent go-to market strategy that makes up its brand. It will firmly identify target audiences, and the means to market to each of them for a solid return on investment. We've pulled together some guidelines and examples to help illustrate the difference.
MISSION STATEMENT = Explains What You Do
Your organization's Mission Statement—of which, there is only one—sets the stage for answering exactly what you do. The Mission is the over-arching, long-term company theme. It's like a short, sweet one-sentence bio.
Examples:
NBAA: To foster an environment that allows business aviation to thrive in the United States and around the world.
Boeing: Connect, Protect, Explore and Inspire the World through Aerospace Innovation
FAA: To provide the safest, most efficient aerospace system in the world.
VISION = Explains Your Most Basic Goal, or Who You Are
Your company's Vision—again, there's only one vision—lays claim to your most basic high-level goal, deftly explaining who you are, with a laser focus.
Examples:
Jazz Aviation: We deliver regional aviation to the world.
Parker Hannifin: Engineering Your Success
Aviation Performance Solutions: We help pilots bring everyone home safely.
VALUE PROPOSITION = Explains How You Can Help (Better than Your Competitors)
As the name itself implies, a Value Proposition offers prospects and clients a glimpse of what your value is over others. Different from a Mission and Vision, there can be multiple Value Propositions, or Value Drivers, that give your customer base a more detailed understanding of your Mission. Value Props basically answer how your company's products and services help customers achieve their goals, instead of focusing on your goals.
Perhaps there is a Value Proposition for each division of a large corporation, or just one for a small boutique firm. Either way, of significant importance here is that a Value Prop MUST convey how an organization can differentiate itself from its competitors, whether it's price point, ease-of-use, or some other unique nuance. If you need additional guidance on how to create your Value Proposition,
.
Examples:
JetBlue: Lower fare with a higher standard of service.
GMN Aerospace: Our capabilities, capacity, and commitment to our customers makes GMN Aerospace the supplier of choice for the aerospace industry. For more than 50 years, GMN Aerospace has met and exceeded the needs of its customers.
POSITION STATEMENTS = Drives Tailored Audience Messaging
With Position Statements we start gaining traction on how we want to portray ourselves to the marketplace via marketing campaigns. Based on our Value Proposition, what will we actually look like? What will we say? How do we convey who we are? All in a way that sets your brand's position and resonates with your target audiences.
Positioning needs to answer exactly how your brand promises to deliver on each and every product and service. It should be tailored to each audience's persona, or type of prospect/client as exhibited through buying patterns and behaviors.
Example:
Airbus: We believe that it's not just what we make, but how we make it that counts. We are convinced that our customers, investors and the communities we are working with not only ask us to create products, jobs and shareholder returns, but to promote responsible, sustainable and inclusive business practices and act with integrity.
FedEx Aerospace Solutions: Whether you're in the business of aircraft maintenance, repair and overhaul, or manufacturing — building entire planes or supplying parts — we can help you develop shipping and supply chain solutions that maximize your efficiency and minimize costly downtime.
TAGLINES = Where Marketing Hits the Road
Taglines are the phrases that accompany a brand's external marketing in the hopes of being a mix of both catchy and informative. In order to create effective, hard-hitting taglines that give audiences clarity around your solution, the marketing continuum (Mission, Vision, Value Prop and Positioning) needs to be firmly set, as each item builds upon the other.
Examples:
Honeywell: The Power of Connected
Lockheed Martin | Sikorsky: Engineering the Future of Vertical Lift
GE: Imagination at Work
And finally, you've created a brand and go-to market strategy—a framework of consistency that the aviation market can rest on. At the end of the day, we are all about building the strongest brand presence for ultimate market share. If this is your goal, too, give us a call so we can help you on the path to success.
---
In Case You Missed It
Our 2019 Trade Show Directory is now available for download.