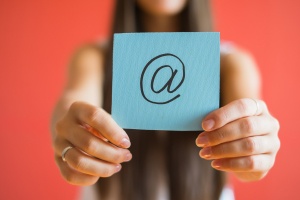 It isn't sexy. It's often annoying. And everyone gets too much.
Even with three strikes against it, email can be a powerful and effective tool for aerospace marketing.
E-mail marketing is a permission-based communication tool and a good way to appropriately interact and engage with customers, partners, and prospects.
It can be personalized, targeted and tracked, is extremely cost-effective, and, unlike old school printed pieces, is quick and easy to produce.
The inbound marketing experts at Marketo advise that in order to be truly effective, your email marketing must be trusted, relevant, conversational, coordinated with other channels, and strategic. We agree.
For example, BDN used our own marketing automation system to send aerospace marketing professionals an eye-catching offer to help improve their marketing with a complimentary consultation. We were offering something of real value, and by presenting it in an authentic and credible way while cross-promoting through social media, we gained audience attention and interest. We were able to track those who opened the email, those who clicked through to our website, and, of course, those who requested a consultation. The result? Three qualified leads, two sizeable new clients, and a growing list of prospects for future communication and nurturing.
If you use email marketing in a thoughtful and responsible way, the customers will come. But an unfocused, shoot-from-the hip approach will do more harm than good, alienating or angering your potential buyers. Here are 8 best practices to guide your first or next campaign.
Determine the goals of email communication. Setting goals for each email will guide your selection of content and metrics.
Build an acquisition strategy. How will you build a list? Develop a plan for how the email list will grow organically over time. For example, visitors to the BDN website are invited to subscribe to our blogs and other content of interest. As this happens, our list grows.
Determine a content plan. What will you say, when, and why? Make sure everything is connected to your goals, strategy and audience needs. This blog, for example, is part of an overall content plan and calendar that was mapped our earlier this year.
Email should be portable, personal, and prescriptive. Make sure that the emails display well on mobile devices and tablets; and eliminate the term "click here," because clicking is a desktop action. Personalize your emails to increase engagement. Keep messages short and to the point, and always provide valuable information and clear call to actions.
Email layout should be simple and consistent. Emails with a single column focus and large calls to action tend to perform best. Always include relevant pre-header text to spotlight your key message or call to action.
Get creative with email strategy. Be creative about when you send emails and interact with customers. Aerospace marketers can make trade shows more productive, for example, by using timely email to generate interest in advance of events, drive attendance, and even schedule meetings with prospects.
Ask customers what they want. Don't be afraid to ask the customers how many emails they would like. Stop sending emails to people who just don't care.
Be ethical. Research CAN-SPAM laws and make sure that your emails are compliant. Honor opt-outs promptly.
Access these resources for additional information about email marketing: Really Good Emails, HubSpot, Marketo
You may also be interested in:
Digital Advertising: How and Why it Can Work for You
You Need Great SEO, And Here's What You Need To Know To Get Started