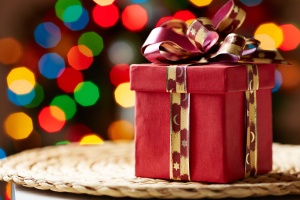 It's December, and for marketers, 'tis the season to be creative and clever in our professional gift giving.
So, just in time for the holidays, the BDN elves are here to help with a list of 15 unexpected and inspired ideas for that hard-to-buy for guy or gal. Everything on the list was hand-picked by our resourceful team members for a range of budgets and personalities — there really is something for everyone.
So what are you waiting for? Let the shopping begin.
Make it personal
1. Marketers spend endless hours fine-tuning projects to make sure every detail is just right. Turning one of those projects in to a piece of art can be a great gift. BDN has had great success with this in the past. One client loved their framed ad enough to order more prints as facility artwork. Another proudly displays it in her office.
2. Why not create a basket of favorites? Have members of your team select items that represent them well. Consider gifts such as books, food, tea or coffee — really anything that can fit in your customized gift basket.
3. An old school journal is a great way to jot down good ideas when you aren't connected. Make it special with a handwritten note on the first page.
Make it practical
4. Road warriors may enjoy a multi-purpose, travel-friendly TSA-approved tool like this.
5. Create a convenient, hands-free stand anywhere with a gooseneck tablet holder. Clamp it to the edge of a desk, airplane tray or favorite easy chair and adjust. Available for phones, too.
6. Coffee lovers who travel don't always have the luxury of an in-room coffee maker, and that means waiting in line at the nearest Starbucks. A packable coffee maker (with tote bag) is the ideal alternative.
7. Send your customer a collection of small gift cards that they can share throughout the office. Buy someone a cup of coffee from Starbucks with a gift card, a burrito from Chipotle for a quick lunch, or even a gift card for happy hour to celebrate a hard day's work. Keep the amounts small to provide a wide variety and a fun little pick-me-up that can be shared around the office.
Make it unique
8. Etsy is an online marketplace where people make, sell and buy unique goods. We did a quick search using the term "jet aircraft" and found everything from beautiful aircraft models to one-of-a-kind photography, unique vintage memorabilia and hand-crafted jewelry.
9. Chances are, your giftee does not already have a bubble wrap calendar. What an unexpected and fun idea. Perfect for the office gift exchange.
10. Find some gifts that are seasonal but relate just to your industry. Your business could send this aviation nutcracker or some themed ornaments.
Make it cool
11. You'd be hard-pressed to find an aviation geek who wouldn't get excited by a camera drone. There are plenty of products for a range of budgets. Here's one option.
12. Cordless, 3D printing pen? Yes, please!
13. Selfie sticks are all the rage and make it easy to shoot people and places (with an aircraft in the background, of course) with just your phone.
Pay it forward
14. Support other local (small) businesses and send the client some love from your main location. For BDN, we could send Arizona favorites like from the Queen Creek Olive Mill, sweet treats from FluffIt Marshmallows or other community favorites.
15. In lieu of a traditional gift, make a donation to the recipient's favorite local charity. Not sure if they have a corporate social responsibility platform? Plant a tree in their honor. Places likes the Arbor Day Foundation are ready to help. Be the first to pay it forward and show good will with the spirit of giving.