Information from Forrester Research Inc. shows that B2B marketers still spend the lion's share of their budgets on in-person trade shows and events, closely followed by digital advertising/marketing, with content marketing, websites, and digital marketing tied for third place, followed by a broad range of other expenditures.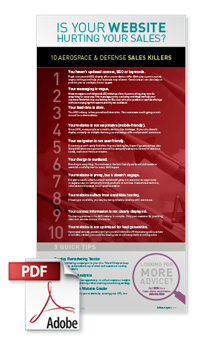 Our experience in aviation, aerospace and defense marketing confirms the Forrester findings. Events and conferences that facilitate in-person connections still reign supreme in our industry. However, we also see that website updates and development have become a priority for many clients.
In some cases, these marketers have realized that the time has come to modernize their current site for content, design and functionality. But, increasingly, the need to update a website is driven by a higher-level strategy to use the site as the hub of a larger marketing effort, often an inbound marketing program designed to generate leads from a pool of self-directed buyers who navigate the sales process without the help of a sales rep. In fact, Forrester reports that today's B2B buyers are two-thirds to 90 percent of the way through their purchase journey before reaching out to the vendor they have found online.
The reality is that your website can work for you or work against you. It can enable sales — or it can kill them. Want to see how your website stacks up? Check out this list of 10 A&D Sales Killers.
---
If you like this blog you may also be interested in:
The 9 Things You Must Consider Before Redesigning Your Website